Andean Taste was created by identifying the needs of a market that required a good food processing service. By implementing our plant following GMP guidelines and high-quality standards, a good process is guaranteed.
Furthermore, specialised machinery was required, which is why our outstanding machinery is Vulcanotec, the undisputed leader in the manufacture of food machinery and present all over the world, so that the factors relating to the reliability of the machinery are more than guaranteed. Our plant to provide food processing services is in Callao, 20 minutes from Jorge Chavez airport and 25 minutes from Panamericana Norte Avenue.
Finally, the human factor is very important, which is why we count on collaborators with a solid technical and human knowledge, to be able to assure you that your product will be in the best hands.
The pillar of Andean Taste is to be able to provide an excellent food processing service, a maquila service where the waste is minimal, the food does not change its composition (aroma, colour, etc.) and the customer is more than satisfied with the product obtained.
Whether you need to obtain fine, coarse, or split grinding with:
Maca grinding.
Turmeric grinding.
Milling of quinoa, cañihua or amaranth.
Barley milling.
Milling of dried sweetpotato (and other roots or tubers)
Grinding of oregano (and other aromatic herbs)
Grinding cumin, pepper (and other seasonings)
Milling of other grains, seeds, tubers, etc.
We can offer grinding of all products that do not exceed an average moisture content of 13% and are not fatty foods.
We can also provide you with the service of dehydrating or drying products to a specific humidity, such as:
Drying for lucuma powder
Drying for maca powder
Drying for kion (ginger) powder, yacon, etc.
Drying of aromatic herbs
Drying for carob powder
Drying of other fruits, tubers, vegetables, etc.
 Almost all types of food such as fruits, vegetables, tubers, etc. can be dried.
We achieve this with a mixture of experience, implemented high quality standards and excellent machinery.
Why Processing with Andean us?
Uniform slicing is essential for the following processes, reducing the size of the product makes it faster and easier to handle.
Our Vulcanotec cutters reduce processing times (less product fatigue), from products such as kion to rocoto it is possible to continue the process with us, where we can choose the thickness to suit your desired product.
This operation is for pulverising all kinds of dry and non-fatty products, such as turmeric, maca pieces, camu camu, quinoa, ginger, purple corn, etc.
We have powerful and efficient Vulcanotec mills to ensure the desired granulometry, stainless steel mills to ensure the quality of the product.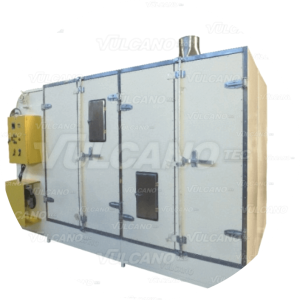 To reduce volume or extend shelf life a good drying or dehydrating process is essential, with our Vulcanotec Tray Dryers it is possible to obtain an excellent dry product, uniform throughout the product and with minimal handling.
In our dryers you can control times and temperatures very precisely ensuring that the product can be burnt or subjected to temperatures where the product loses its properties.
Within Andean Processes we have the principle of quality as a central point of our service. The traceability of the process is recorded. We offer safe and healthy products, elaborated with high technology Vulcanotec equipment ensuring that our products remain nutritious and healthy.
Sampling is constantly carried out during the process to ensure the final product or to correct immediately if it does not meet the standards.
In our plant we have implemented in our plant:
Good Manufacturing Practices (GMP)
Hazard Analysis and Critical Control Point System (HACCP)
Safety, hygiene and environmental sanitation
In the same way, with each process we send our Quality Certificate to the customer.
Quality is our quality and responsibility, which motivates us to continuously work under strict quality standards following Good Manufacturing Practices programmes and our HACCP Plan.
So you can be sure that Andean Procesos is always the best choice for food processing services.